Jun 14 2010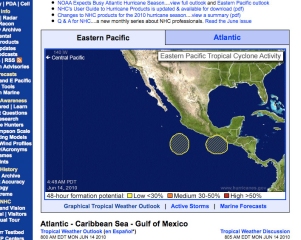 I was waiting happily for crew to arrive, and for the right weather window, and planning for everything to be just right.  But, with TWO potential tropical storms (
according to NOAA
) brewing in the south of Mexico, it is time to go.
The first storm is brewing off the coast of Acapulco, and the second one a bit further down.  The first has a 20% chance of turning into a hurricane, and it is traveling West, North-West–basically, towards Hawaii.  The second storm went from a 10% chance to a 20% chance, and is traveling North, North-West.  Neither of them currently are pointed towards the Baja . . . but, that could always change, and I am not taking any chances.
Marishanna sets sail tomorrow in the early morning hours.  Yesterday, I provisioned the boat.  Today is diesel, water and all the last little bits that need to happen, and tomorrow before dawn, we set sail for California.  The goal is to be above latitude 27 in roughly three days (approximately 300nm).  Fortunately, the weather looks decent – to good, and even more fortunately, I will be buddy-boating with some neighbors from Alameda (literally, other liveaboards from the same dock, even) and, I think they are sharing one of their crew with me for at least the first part of the trip.
More updates soon . . . .