Nov 07 2009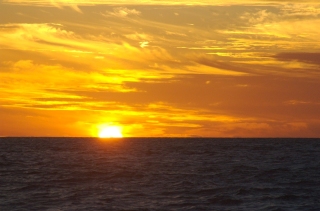 There are still a lot of details to sort out in the next few days and writing time has been pretty sparse. The
Baja Ha-ha
activities are still happening, and we are sorting through customs and various paperwork. Right now, we have a slip in the marina in the middle of it all. The restrooms and showers are wonderful, we are in the middle of the night-life and close to everything. In another few days, that is going to change . . . .
I will be moving the boat to an anchorage right outside of the resorts and using the dinghy to get back and forth to town. There are currently roughly 100 boats anchored out in the bay, although in a few days, they will start to peel out for their various destinations. Some will sail towards La Paz, Mazatlan, or Puerto Vallarta, and others will begin sailing against the winds on the delivery back to colder climates (we call it the Baja Bash). Still others will sail down closer to the equator in preparation for their "Puddle Jump" to the Marquesas.  I will stay here in Cabo San Lucas on my 40-foot floating city.
While still sorting and officiating all of the things that need to be officiated, I tempt you with this–another stunning sunset on the Pacific Ocean.