Jan 08 2010
While I certainly missing all of you at Christmas this year, I had an interesting opportunity for a unique way to celebrate the holiday this year.
On Christmas Eve, I recognized another Baja Ha-ha participant–Captain Bob. He sailed down on his 52-foot Beneteau sailboat, named L'Atitude 32. He is a licensed Captain, has chosen to winter down here in Mexico, and has gone through all of the hoops to run his charter business out of Cabo San Lucas. Both down here without our respective families, we decided that we would go fishing on Christmas and do what sailors do–sail.
The boat is luxurious, to say the least. The interior is huge, has an entertainer's kitchen, a horseshoe-shaped dining table that seats 8 people, two aft cabins (each with their own bathroom and shower), and a gigantic master suite amidship–which corresponds nicely to the most comfortable, least rolling, and most quiet place on the ship. The dark blue hull and ultra-white topsides are recognizable even from a distance.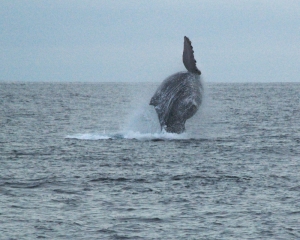 We met a little after 10am, packed up the gear, and motored out of the harbor. Not far past the famous rocks of Land's End, we rigged our fishing gear, tossed the lures overboard, and spooled out some line to get them popping at just the right distance behinds us–the irresistible siren's song singing to the fish swimming below. And, we settled into the important tasks in Mexico: selecting the right music, and what will I be drinking today.
It was, in fact, our original intent to fish all day. The seas were flat, and there was a mild breeze. Neither of us has a schedule–so, if we fished all day, that would be fine. On our two fishing poles, we dragged a cedar plug, a painted cedar plug, a couple of jigs, and later a spoon. Captain Bob got a nice hit on one of his lures. We slowed and waited and the fish took another nibble. And, then, nothing. So, we returned to our conversation and kept fishing.
We made a nice, arcing loop outside of the Bahia Cabo San Lucas. We headed west for a almost an hour, then due south off-shore, and finally circled around back towards Cabo. Just as we had turned back towards Cabo San Lucas, a humpback whale surfaced about 20 feet off the starboard side of the boat. A nice, benign visitor wondering what two sailors were doing in his or her territory on Christmas Day. We quickly decided to reel in the fishing gear and spend the rest of the day whale watching.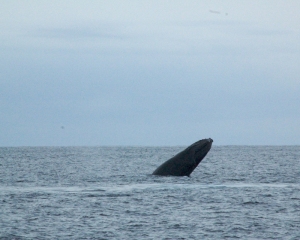 That magnificent humpback whale proceeded to put on a show for the next three hours that was absolutely spectacular. Full, out of the water, breeches. Giant splashes. The picturesque tail before the deep dive. It was phenomenal–and, a superb way to spend Christmas. If we had only figured out how to transport the entire family and an apple pie, or two down here–it would have been complete!
Captain Bob charters his boat, and it is a classy, full-service experience. You can go whale watching (they will be here through March), snorkeling, or enjoy a sunset, cocktail cruise–the food, drinks and gear are provided. You can reach him through his website at www.daysailcabo.com, by email: bob@daysailcabo.com, by phone (US): 858-442-2233, or phone (local, Cabo San Lucas): 624-18-24-924