Jun 07 2010
I am looking for a few good sailors for the return trip. The details of the boat are on this blog, and I will provision the boat–you must simply cover your flight expenses to Cabo San Lucas, and return transportation to your home town.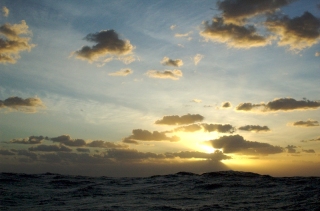 The trip from Cabo San Lucas to San Diego has no place to get off, although we will be stopping in Bahia Santa Maria, Turtle Bay, and Ensenada for our final check-out of the country–with the possibility of other stops along the way to avoid bad weather. Your help on this stretch of the trip would be for the duration of the Cabo to San Diego leg. Of course, you will have to suffer vistas like this . . . but, you will have your share of watches, too. 4-hour watches during the daylight, and 2-hour watches at night–and, we will be fishing the entire trip.
If we were to sail straight through without stopping, and with perfect weather, it could take optimistically 6 days to get to San Diego. Realistically, it will be more like 10 – 12 days–and, if we have to wait out bad weather, or mechanical problems, it could be another 3 – 5 days on top of that.
Once in San Diego, we will be there for a few days to visit friends, re-provision the boat, and check into the country. The legs are much shorter once we are back in the US–San Diego to Morro Bay (with the possibility of stops at Catalina, and Point Conception between), Morro Bay to Monterey, and Monterey to SF.
If you are interested in getting some sea miles under your belt, please contact me through the website, or email me directly at: timothy@isailaway.net