May 05 2010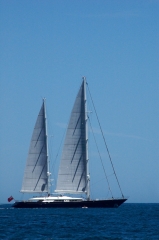 A beautiful boat . . . .
This is Zenzi, purported to be owned by Larry Ellison (think Oracle and America's Cup).  It anchored out in the bay in Cabo for a few days . . . and, we were neighbors.  Then she set sail.
How sweet it is . . . .
Leave a Reply
You must be logged in to post a comment.