Dec 11 2009
As beautiful as Bahia Santa Maria is, it is blighted with poverty. The unimproved shacks of the people who live here permanenty are barely habitable by any standards. It is what they have, so I am not passing judgment, but it also the reason why the Baja Ha-ha organizers started fundraising for them each year.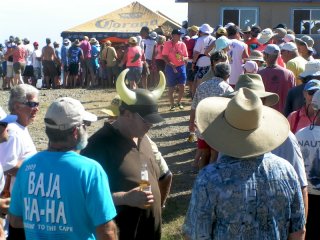 To make things even more difficult for the people of Bahia Santa Maria, one of the hurricanes that missed Cabo San Lucas this year, veered north and hit this little village directly. So–what little they had got washed away by torrential rain and 100+ mph winds.
As a group, the Baja Ha-ha fleet offers some serious buying power (relatively speaking). There were 198 boats, and approximately 1000 sailors. So, this year, for the fundraising party, the locals hosted a fresh shrimp dinner–for 1000 people. We paid $15 and got a plate of locally caught and prepared food and we bought as much beer as we wanted at the same time . . . .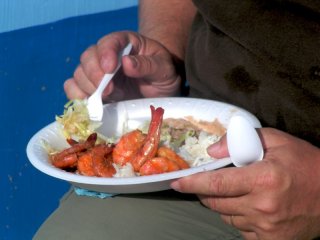 The surprise about the fundraiser this year was that the music has historically been a set of speakers and a DJ. But, between Baja Ha-has, a band contacted the organizers and asked if they could play the gig. And, they were awesome. Rolling Stones, Beatles, Neil Young, America, The Who, Led Zepplin . . . these guys could play music. The guitarist ripped off some great solos, and the singer hit all the notes . . . . It was spectacular music.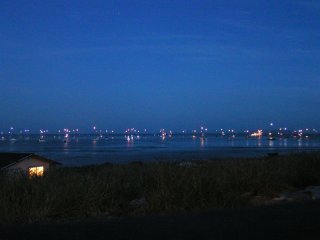 So, with a belly full of food, a cold cerveza in-hand, and good music, we danced until it was dark . . . . It seemed a little self-serving to be charity work, but that thought may have just been my Catholic within . . . . 😉
Leave a Reply
You must be logged in to post a comment.