Dec 10 2009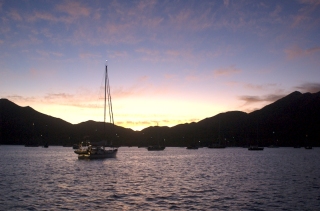 Over the Single Sideband Radio, we had been hearing about a Singles Party. I thought it was a bit odd, but was waited to pass judgement until I learned the details. That morning, over the daily check-in, and after all of other business was concluded, we heard a bit more about the party.
The holder of the party made a direct pleading to boat owners. He said that this party is organized on your behalf. You have picked up your additional crew members to sail with you on the trip. Tonight, would be a great time to take those crew members, send them over to the three rafted-up sailboats with a bottle of booze, and in return, give yourselves a couple of hours of privacy. If you know what I mean?
Once the encrypted words floated on the airwaves, I understood.
Send your kids. Send your crew members. And, you get to have the boat to yourself . . . it's been a few days, and your on vacation, right?
Nathan and I went over to the party–as we were the only ones who were single, but we quickly found out that we may have also been the only boat adhering to the "singles" part of the party. It was a party for everyone with a lot of alcohol, loud music, and a little dancing on three rafted-up boats (complete with sparkly Christmas-party lights) in an absolutely gorgeous setting . . . .
Leave a Reply
You must be logged in to post a comment.