Dec 10 2009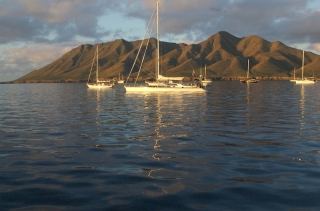 Bahia Santa Maria is pristine–like a postcard, actually. It is less than a 100 miles from the larger Mexican port, Magdelena Bay, but rather than deal with all of the bustle and crowds, Bahia Santa Maria is quiet–idyllic almost.
After catching up on our sleep, we awoke to a beautiful, peaceful bay. I popped my head out of the hatch (before even having a cup coffee) and went up on deck. The water was like a mirror. A dorado (Mahi-mahi) was chasing a school of smaller fish, and he/she (couldn't tell) came swimming by as if it were a dolphin: breaking the surface of the water, down into the water, out of the water again, and back down again. The dorado in its rhythms did this between our boat and another one for a couple hundred yards. It was beautiful.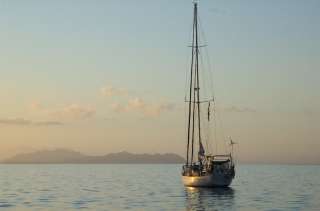 Apparently the town was hit really hard by hurricane this summer. The recent rains associated with the storm are what caused the hills to turn green. The local fisherman, to my understanding, fish here during the week and stay in some improvised housing, and on the weekends, drive back to wherever their homes and families. Of course, there are some who live her permanently, but not many. The only sign of humans from the harbor, in fact, were these dozen or so improvised buildings and a slightly larger structure that I believe was the "town bar."
We were excited about 2 full days of rest and relaxation (while the rest of the fleet catches up). There were a few chores (our dinghy needed a bit of repair), and, a couple of social events. But, for now, we were excited to take in the scenery and relax.
One Response to "Bahia Santa Maria"
#

Stephanie

on 11 Jan 2010 at 2:50 pm

This looks like heaven….
Leave a Reply
You must be logged in to post a comment.