Nov 13 2009
Around 1pm, the crew started to rumble and awake. We hadn't slept a considerably long time – basically one watch-worth of time – but we were all hungry and eager to get ashore after 4 days on the boat.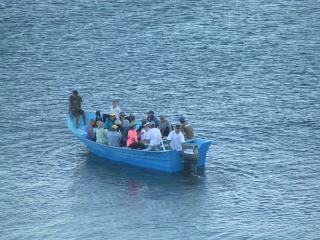 Every morning, at 7:30am, the Grand Poobah (his choice of names, not ours) runs a check-in process over the
Single-Sideband Radio
(SSB). Each boat in the fleet reports their position and anything special (ie., we had a medical emergency on-board, or our motor stopped working and we are under sail only, or we caught a huge Dorado yesterday). After the check-in parts, we share information with the other cruisers. One of the important bits that we learned one morning was that in Bahia de Tortugas, call Enrique on channel 16 for a water taxi from your boat to town.
We have a dinghy that our captain went to great pain to patch and repair (apparently mice had decided to try the rubber in a few places) and an outboard motor, but we were all hungry. So, we called Enrique on VHF Channel 16 and he fetched us. Within moments we were speeding towards shore.
Bahia de Tortugas is a really small fishing town. One time each year (for the past 16 years), a group of sailing boats in a fleet known as the Baja Ha-ha comes to town–each year growing in size up to the 200 boats that were in our fleet this year. The town prepares for our arrival, stocks up on food and booze for the cruisers, and lays out the hospitality–and, we spend our money like crazy. And, it works. Our two or three day stop has become a huge cash infusion into an otherwise poor fishing town.
Enrique is really a fisherman–as are all of the other "water taxi" drivers. We know about him most likely because he has the most panga boats in his fleet. The locals fish for camarones (shrimp), langusta (lobster), dorado (mahi mahi) and tuna. When the Baja Ha-ha fleet arrives, they put their other profession aside and ferry American and Canadian cruisers from their sailboats to shore for $4/person per trip. They also take trash from your boat and dispose of it for $1/bag. They will also bring you jerry cans of diesel and water at reasonable prices–right to your boat. They will also sell you their fresh fish and shrimp–no market necessary.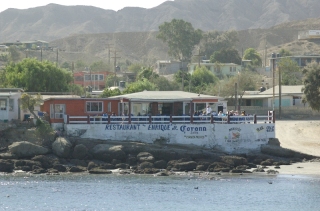 Our water taxi delivered us to the large dock and we could see the restaurant where we were going to eat already. Salivating from hunger, there was a patio restaurant where we could see other cruisers already imbibing–and, we walked down the beach towards the cold beer and warm food (that someone else was preparing). Over the next four hours, we would eat and drink our fill of beef and cheese tacos, a gespacio-type shrimp cocktail and Nathan won the day by ordering the lobster plate–a HUGE lobster served ceremoniously on a plate with beans, rice and salad.
Leave a Reply
You must be logged in to post a comment.