Nov 12 2009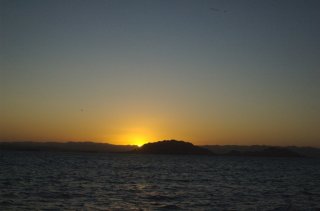 We arrived at Bahia de Tortugas around 4am. It took us about 2 hours to motor from the official finish line of this first leg to the anchorage. There were already about 60 boats who had arrived–mostly those who had not stopped at Bahia San Quintan.
Turtle Bay is a small-sized fishing port with a little city behind it. There are some basic amenities there: petrol, water (that must be purified), a few grocery stores varying in size from tiny to small, two hotels where you could order "ducha solamente" (shower only), and a handful of restaurants and taco stands.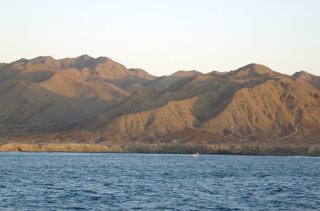 There were also general town services, a small hospital, pharmacies, internet cafes, a zocalo, and complete neighborhoods, as well. The trappings of significant industry lay rotting and unused in the corrosive marine air–we thought the signs on the wall of the big rusted warehouse on the waterfront read "Sardines."
Towards the end of this leg, our watches got a bit crazy. At some point, too many of us had gone too long without a proper amount of sleep. This is important because when you are on-watch, you are working.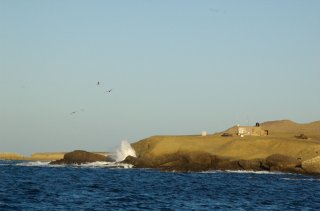 During the daytime, you catch up on maintenance for the boat mostly because you can see what you are doing (maintenance IS a non-stop battle on every boat). But, at night you do a different kind of work. Your job is to watch for ships (and, if you see do anything in your power to ensure that they see you) and keep your own ship out of danger.  Honestly, I feel that keeping the ship out of trouble at night is more strenuous than doing the chores of the daytime shifts.  Fortunately, everyone gets to do both.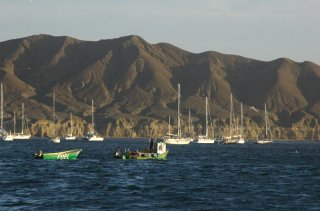 We slowly rounded the tip of the bay and eeked our way into the anchorage. When we found a suitable spot for our boat, we dropped anchor, meeted out enough rode, shut down the boat systems, did a quick once-over of the entire ship, and everyone was alseep within minutes.
4 Responses to "Bahia de Tortugas"
#

britta

on 12 Nov 2009 at 2:42 pm

Hej sa Tim!!!!
Can you feel our thought messages? Can you feel the good energy surrounding you as you welcome in a celebrated birthday, living exactly what makes you the adventurous spirit that you are! You are writing, sailing, learning, teaching and you are so sharing this experience with all of us! I feel like I am right there with you feeling the salty spray in my face, seeing the twinkling stars in the sky when the clouds part exposing the heavens above and rolling with the power of mother nature as she swells and lifts and drops and carries you into new territory. Your discoveries are vivid and lasting. I am so very proud of you! We are so very proud of you! Thank you for logging your writings and incredible photographs of that that is around you and that that is inside you. We are loving "sailing" right there with you on isailaway website!
Take it all in, be safe, have fun, share all that you want to, relish in this time for you and we will share stories all together soon! Jag alskar dej jette mycket och hej da fer nu!
Britta

#

Gsmarsolais

on 12 Nov 2009 at 8:04 pm

Where in the world is Birthday Tim???

Wow…I am not sure exactly where you are. I thought it stopped in Baha…but I think you are further south. Catch up on some sleep…it is much earned. I can't wait to hear your adventures and voice….and I can not wait to see the photos…thanks for sharing what you have with us, but I suspect there are so many more.

Love you lots,

Take care bro.

Greg

Thank you Britta for the wonderful birthday wishes! Glad you are enjoying the tales and thank you for all the support and love! If you are singing with your sister this weekend in Berkeley, break a leg (figuratively–that always creeps me out to wish that to someone). 😉

Much love, -Tim

PS. Let's take the Lido out in Morro Bay when I return!

Greg–I am in Cabo San Lucas anchored outside the hotels, but did not have a single second to write during the sail down. Kinda crazy to go from writing 1 – 2 hours a day to nada in almost 4 weeks. Anyways, re-living the memories with these posts before the memories get stale.

Thank you for the birthday wishes. Let's celebrate when I get back!

Love you, bro

-Tim
Leave a Reply
You must be logged in to post a comment.